Mecca Salahuddin, Ph.D., M.S.
Strategist – Organizational Learning & Effectiveness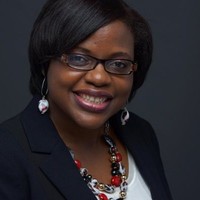 Dr. Salahuddin has over 20 years working in Higher Education both at 4-year and 2-year institutions. Over the last 10 years, her work has focused on institutional effectiveness in general and more specifically managing strategic initiatives that drive performance excellence, integrating organizational knowledge creation, retention and transfer, and developing and implementing cutting-edge evaluation methods.

She is highly skilled at using process improvement strategies to achieve high impact organizational outcomes and key performance indicators. She is adept at designing evaluation studies, conducting analyses. and disseminating findings to inform practice and policy.

Dr. Salahuddin has a great appreciation for the role relationship building plays in working with individual clients to develop and implement successful planning and implementation processes and other key institutional activities.
Dr. Salahuddin received her Ph.D. in Organizational Leadership from the University of the Incarnate Word and a Masters and Bachelors in Psychology from the University of Texas at San Antonio.